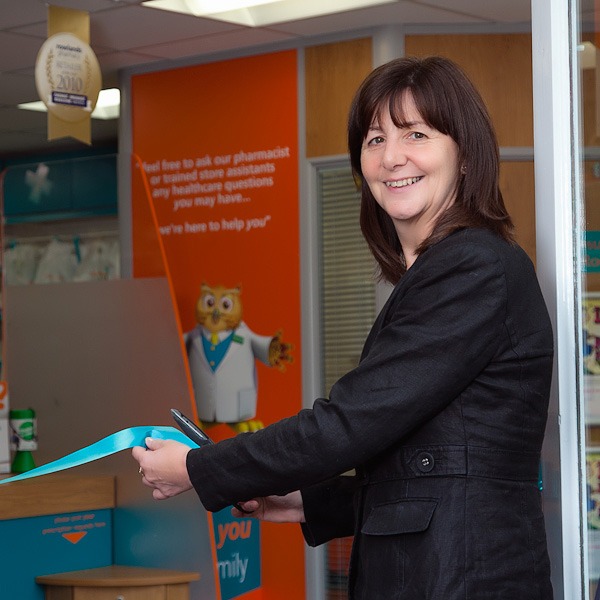 In her capacity as Assembly Member for Wrexham, Lesley Griffiths, who is also Welsh Minister for Health and Social Services, has officially opened a new Health and Wellbeing centre in Rhosddu.
The Rowlands Pharmacy branch, which leads the way for its smoking cessation service in Wales, is now divided up into colour coded areas to make it easier for customers to find products, and make them feel more comfortable approaching staff for help with prescriptions or general health advice.
Ms Griffiths cut the ribbon to officially mark the re-opening of the store and was given a guided tour of the new dispensary and an opportunity to sample the free health checks available to customers.
The Pharmacy offers many free services such as blood pressure monitoring, weight management, diabetes risk assessment and smoking cessation. Rowlands also offer a free medicine check-up service, giving patients and customers the opportunity to sit down with a pharmacist to discuss their medication and answer any queries or concerns they may have.
Rhosddu Pharmacist Joanne Kember, who recently gained a Diploma in Clinical Practice in the Community Pharmacy from Cardiff University, works very closely with local voluntary groups and goes out into the community to give health presentations.
The Rhosddu store operates a successful prescription collection and delivery service, with 96% of the prescriptions it handles using this service. The Pharmacy also stocks a range of Celebrity Slim packages with a variety of delicious snacks to help aid weight loss.
Rowlands Area Manager Beth Taylor said:
"Pharmacies play a major role in the health of the local community, which is due to the availability of a broad range of services to help meet their healthcare needs. We're delighted to be taking the pharmacy into a whole new era and the new layout makes it easier for patients and customers to find what they are looking for."
The Pharmacy has built a good relationship with Ms Griffiths, who has supported the branch on many occasions including Breast Cancer Awareness Week.
Beth added:
"We were really pleased that Ms Griffiths could take time out of a busy schedule to visit the newly refitted and refurbished pharmacy. The visit highlighted the importance of the community pharmacy and the range of care services available."
Lesley Griffiths AM added:
"I was delighted to be invited to open the new Health and Wellbeing centre at Rhosddu, which offers a much improved experience for customers and staff alike, and I thank staff for inviting me. "The occasion also gave me an opportunity to take a free, five minute Diabetes risk assessment. I applaud the work Rowland's is doing to promote free, preventative healthcare and advice. Keeping people informed in this way is a powerful tool which can help manage and even prevent conditions such as Diabetes."
Rowlands Pharmacy has over 500 branches throughout the UK. For details of your nearest Rowlands branch, or to find out more about the services Rowlands offers visit: www.rowlandspharmacy.co.uk.
https://www.neilsonreeves.co.uk/wp-content/uploads/2011/06/lesley-griffiths-rowlands-pharmacy-6-Edit.jpg
389
600
admin
https://www.neilsonreeves.co.uk/wp-content/uploads/2013/04/neilsonreeves-photography-logo.png
admin
2011-06-28 08:21:12
2015-03-13 14:07:00
Lesley Griffiths AM officially opens new Health and Wellbeing Centre in Rhosddu