Rowlands Pharmacy Excellence Awards 2012
The second Rowlands Pharmacy Excellence Awards, which recognises and rewards exceptional achievements, was held on 14th March 2012.  130 members of staff from across the organisation joined with key figures from the pharmaceutical industry in the celebrations at a prestigious awards ceremony to congratulate colleagues who had excelled in their roles. The awards are open to all stores and individuals across the entire organisation, and nominations came from colleagues and customers who could vote in a number of categories. We at Rowlands Pharmacy would like to congratulate all the winners and nominees of our Excellence Awards. These individuals have demonstrated, time and again, their commitment to providing the highest quality local community healthcare. A big thank you to everyone who voted, contributed both time and effort, and to all of our sponsors.
Assistant of the Year – Presented by Mike Johnson & Trevor Gore, Reckitts
Rose Rayfield Branch 1335 Trawsfynydd  Area  1
Rose is not only the assistant in this store but she also stands in as Manager, making sure everything is as it should be in the branch. Rose works closely with the surgery and manages to make sure that all the branches targets are met including MUR's. Rose also makes Jacek's job in area 1 a lot easier by ensuring all the area deadlines for handing in paperwork are met. Rose is a fantastic asset to the company and she really cares about her customers and Rowlands.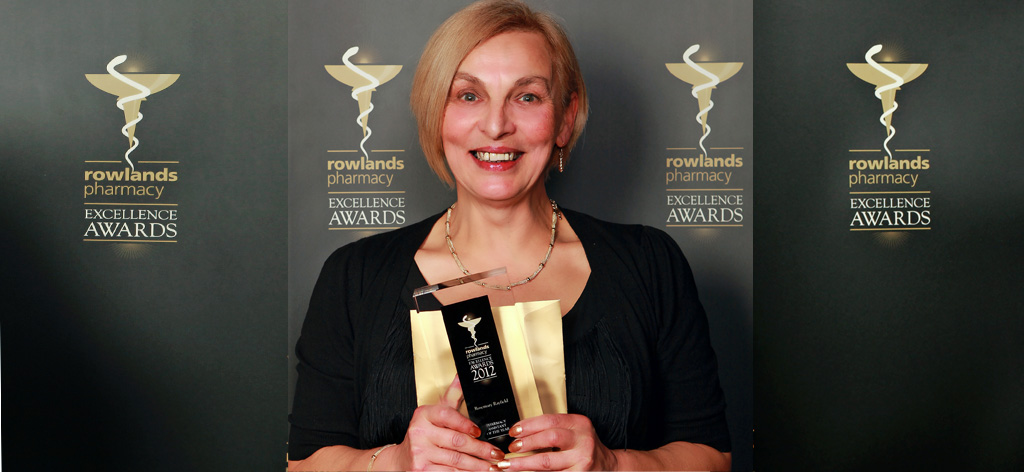 [clear]
Driver of the Year – Presented by Stefan Pflug & Jonathon Berkson, Hill Dickinson
Michael Doolan Branch 1044 Prestatyn Area  1
Michael is a fantastic member of the team always willing to help the customers.  He never says no when he needs to deliver medicines, even if it is outside of his working pattern.  As well as helping the branch to grow the business, he signs on average 3 new customers every week for the collection service during his routes and he has just secured a newly built sheltered accommodation in the Prestatyn area which has brought to the branch 46 new customers and around 300 items per month!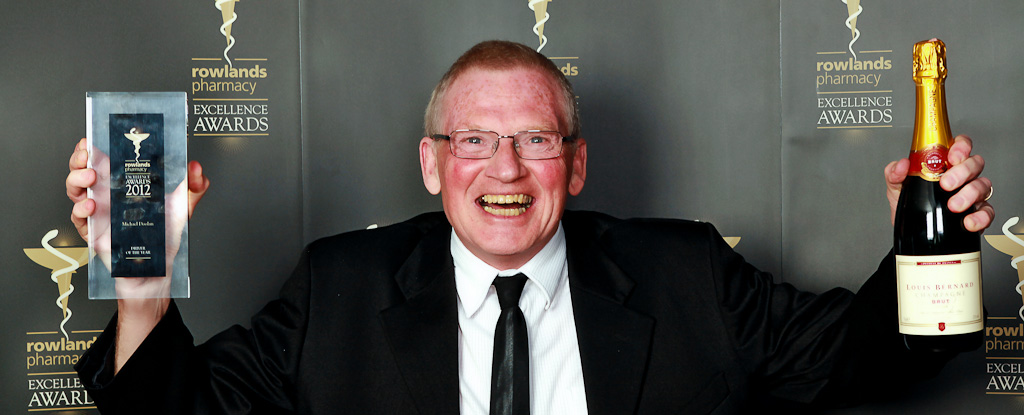 Technician of the Year – Presented by Neil Topping & Angela Langley, Pfizer
Susan Littlejohn Branch 1349 Fratton Road Area  4 
Sue is a dedicated member of the team in the Fratton Road branch.  In addition to completing all the roles we normally expect of any of our dispensers, Sue helps ensure that all our customer's needs are met in the Portsmouth area through her work in managing the centralised prescription collection service out of Fratton Road.  Sue's other responsibilities in branch include conducting NHS cardiovascular risk assessments and looking after some of the more vulnerable patients.  She has built a number of relationships with other service providers from local GPs to mental health nurses and is well respected by the local community as a result of this.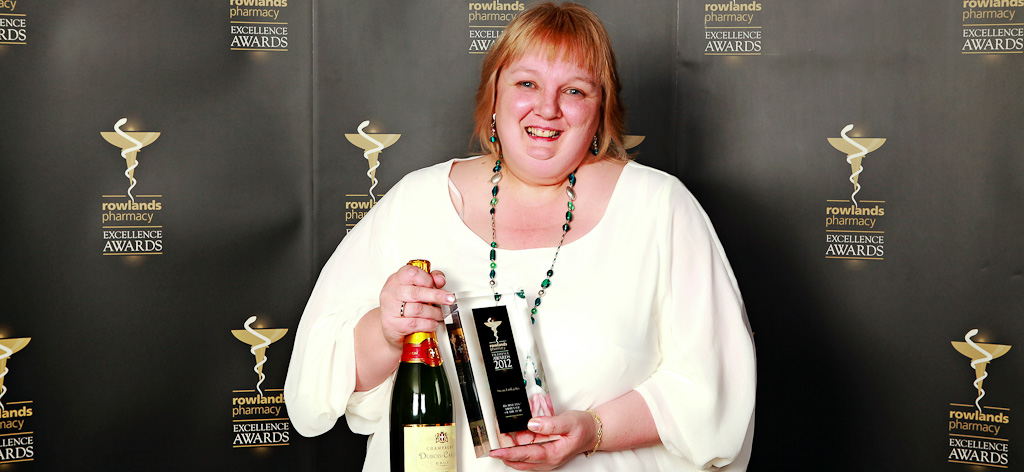 Head Office Department of the Year – Presented by Kenny Black & Jonathan Kilham, Dr Reddys
Refit & Design
Refit & Design was previously known as Retail Services.  Located at Aston Fields they are responsible for refitting, relocating and upgrading stores.  There are 24 members of staff most of which are field based which shows in their combined mileage for the year which is around a million miles! The department deals with a large amount of external suppliers such as, floor layers, shopfitters, electricians and surveyors.  From initially visiting a shop it can take as little as a week to draw up the plans and order all the equipment for a refit and they can upgrade a pharmacy in a little as 5 days and fully refit a store in less than 2 weeks.  They have upgraded 152 stores to the concept design.  At the end of 2011 the refit and design department had spent 2.6m on upgrading and improving the stores.

Pharmacist of the Year – Presented by Margaret MacRury & Clara Mann, Actavis
Kirstie Church Branch 1409  Calderwood Square Area 15
Kirstie is an enthusiastic young, pharmacist who always goes that extra mile to ensure the needs of all her patients are fully met.  She fully utilises all aspects of  the new pharmacy contract in Scotland. More often than not she can be found in her consultation room or on our retrieval area delivering smoking cessation advice, prescribing minor ailments or counselling patients on their medication. She is an excellent team player and a great ambassador for Rowlands Pharmacy.  Most recently she has worked in collaboration with Glasgow and Clyde Health Board to train fellow pharmacists on all the new aspects of the pharmacy contract.  She has also been fully involved in the successful implementation of the Chronic Medication Service, resulting in all 42 Rowlands branches located in Scotland, meeting their target at the end of 2011.

Pre Registration Pharmacist of the Year – Presented by Sandra Hutchinson & Tony Cordrey, Sandoz
Sarah Patterson
Sarah is a pleasure to work with & very supportive of the team.  She approaches all tasks in a professional and positive manner and has had a very positive impact on staff through supporting staff training.  She has worked with the team to develop services and support team confidence and competence in promotion and delivery of services within the pharmacy.  Sarah has proactively worked with the staff to support stronger patient engagement and built a strong working partnership with local nursing homes and GPs by volunteering to do medication reviews and risk assessments for the chronic medication service.  She has made the transition from Saturday girl to Pre-Reg seamlessly and is a huge asset to both the pharmacy and the company.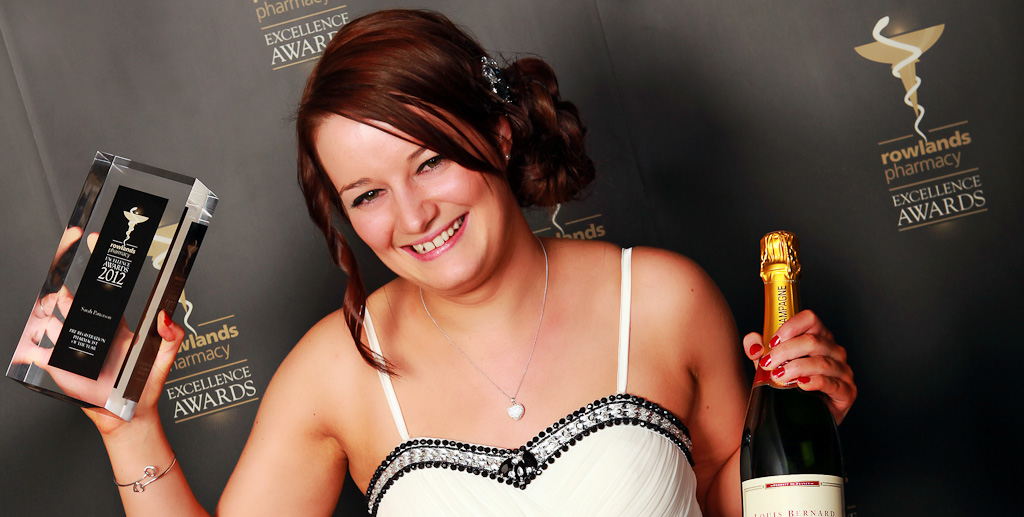 Area Manager of the Year – Presented by Jill Chiwara, Steve Charnock & Colm Magee, Teva
Tania Meagher
Tania has been the Area Manager of Area 20 for just over four years now and after the initial problems of dealing with the Nucare acquisitions has had some notable successes in the last 12 months.  These include Area 20 being the only English Area in the Company to beat its items budget finishing the year 0.8% above budget and plus 4.6% on the previous year.  From October, Area 20 was the first Area to have all shops complete their 6 NMS and hence get all the implementation fees.  The standards in all of Tania's shops have been complimented by Marketing Department whilst completing the EPOS ticket rollout.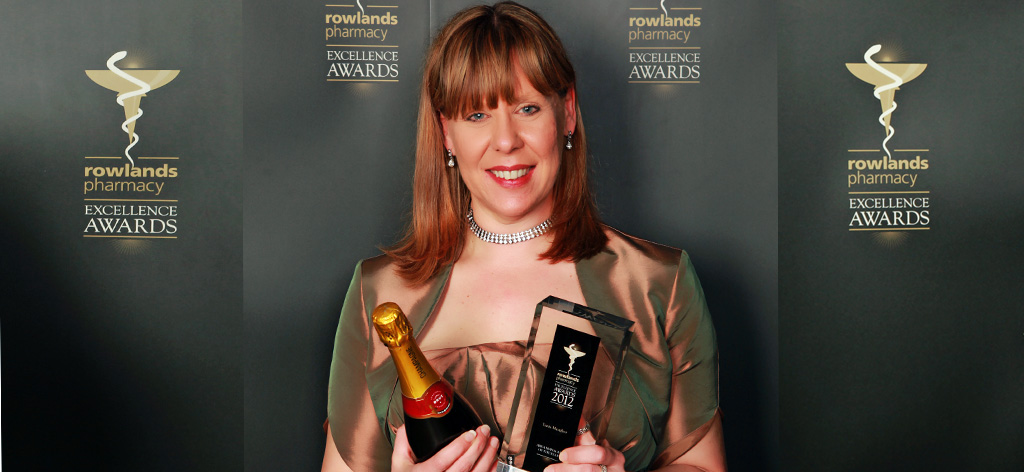 Branch of the Year – Presented by Chris Cooper & Chris Silverwood, Bayer
Parkfield Branch 1072  Area 13
The team at Parkfield, led by Habib, have a real passion for delivering excellent customer service.  They were one of the first concept stores as we were sure their positive attitude would guarantee success. They have a great relationship with their surgery, which includes Habib doing weekly medication reviews for them.  The team are always looking for opportunities to grow their business and have started this year with a bang beating budget by 5% in February.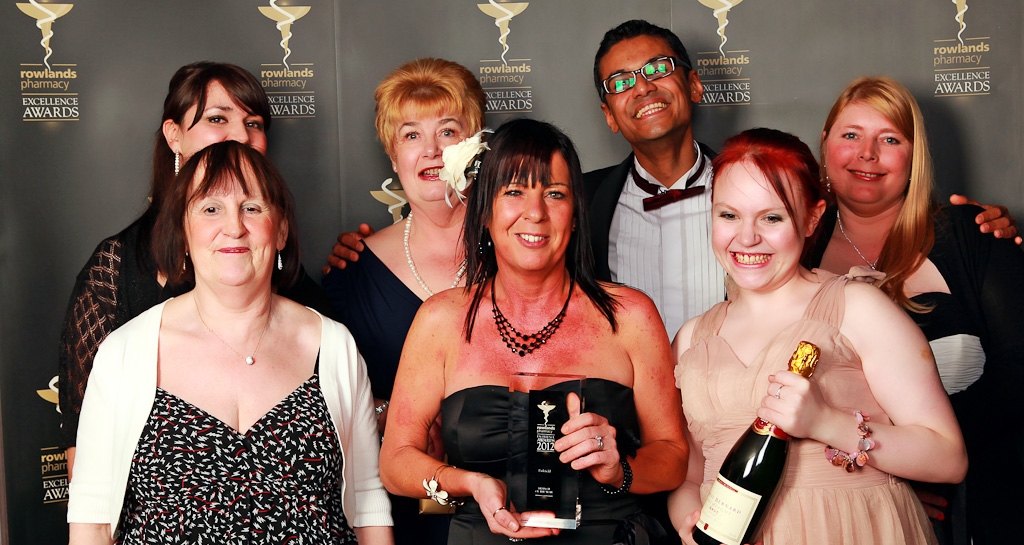 Outstanding Achievement Award – Presented by Ian Cowan & Geoff Foots, Guerilla
Stephen Frostick  1573 Bentalls  Area 20
Stephen went to deliver to a regular patient, and upon arriving at the flat opened the downstairs door which is left unlocked, called up the stairs but didn't get a response. He took the script back to the branch with the intention of trying again later.  When Stephen went to deliver the second time, he again called up the stairs and this time heard groaning.  Not knowing what state the elderly lady customer was in, he rushed back to the pharmacy and brought back another two members of staff to the flat.  They found the lady collapsed on the floor and starting to turn blue.  The paramedics were called and when they had finished attending to the lady, the paramedic told Stephen, and the other two members of staff that if Stephen hadn't gone back to get help, the lady would have only survived for a few more hours.  Fortunately our customer did get better and Stephen is still delivering to her.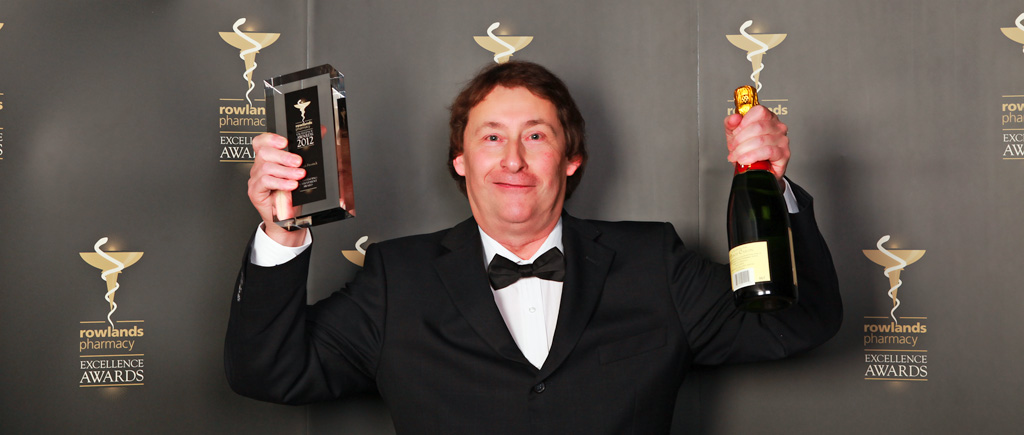 Sponsors and Presenters
Mike Johnson & Trevor Gore, Reckitts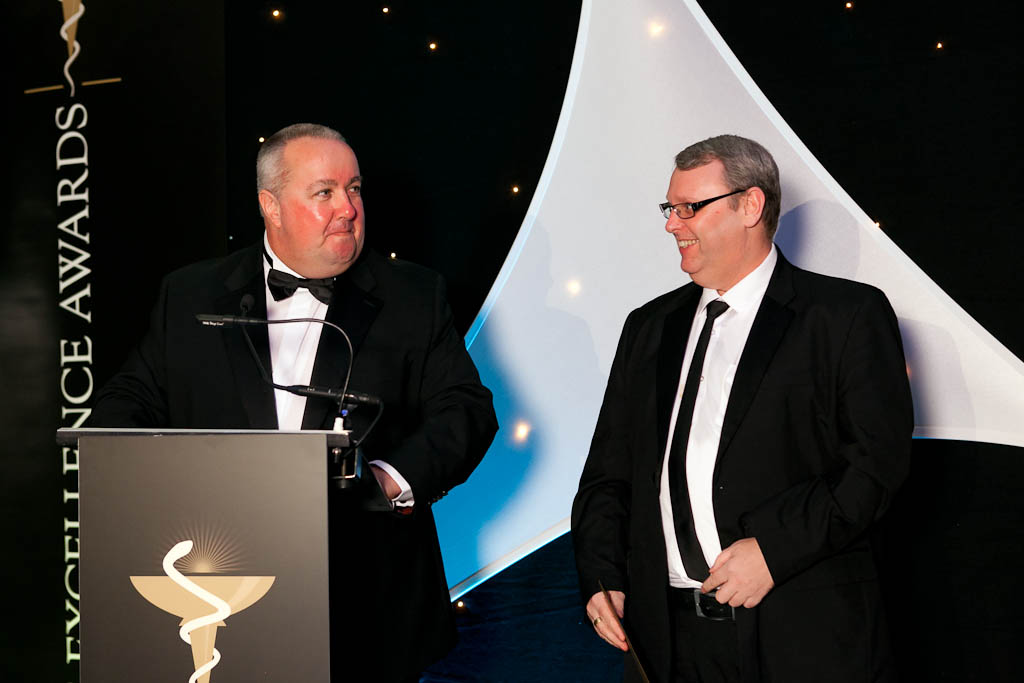 Stefan Pflug & Jonathon Berkson, Hill Dickinson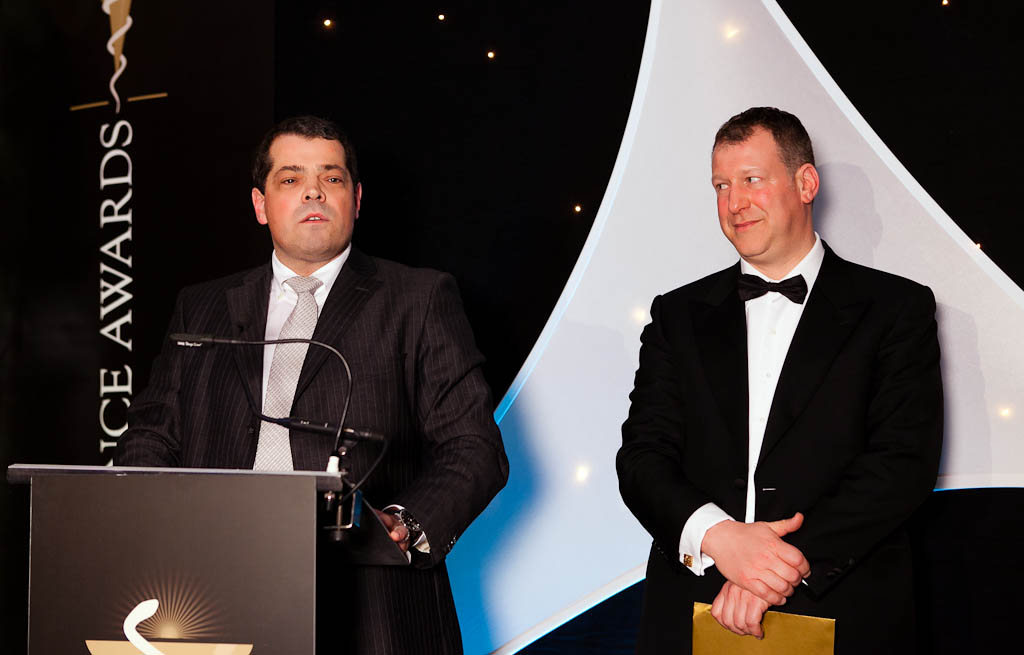 Neil Topping & Angela Langley, Pfizer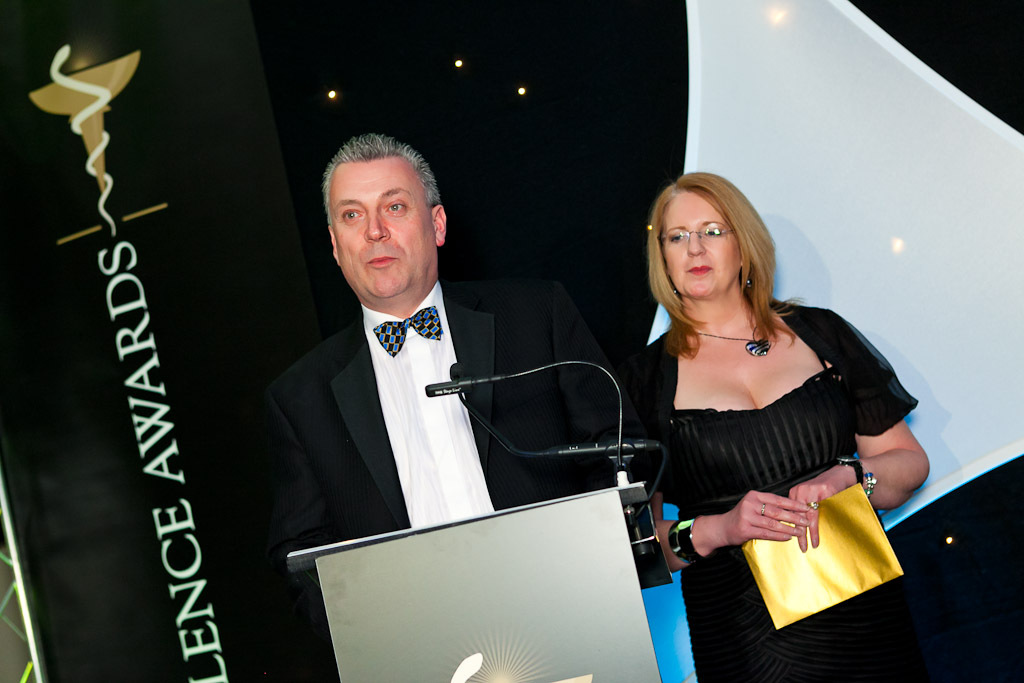 Kenny Black & Jonathan Kilham, Dr Reddys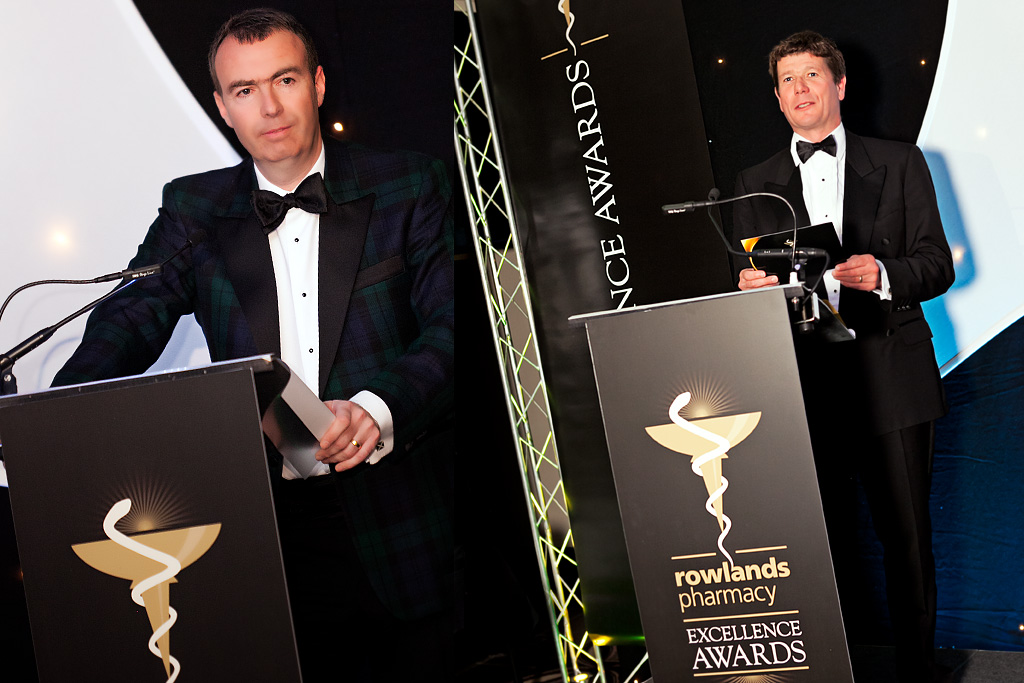 Margaret MacRury and Clara Mann, Actavis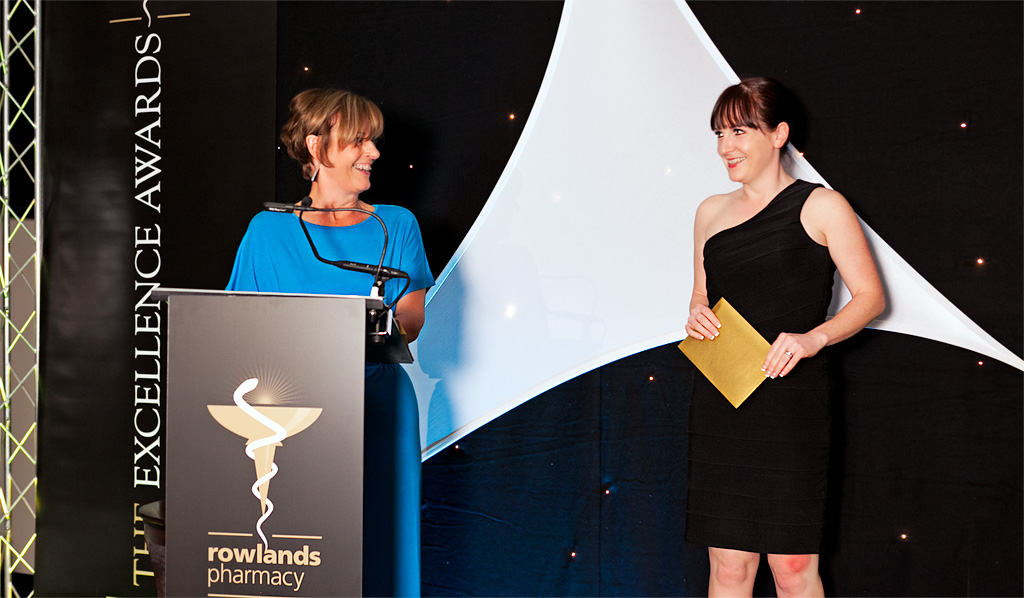 Sandra Hutchinson & Tony Cordrey, Sandoz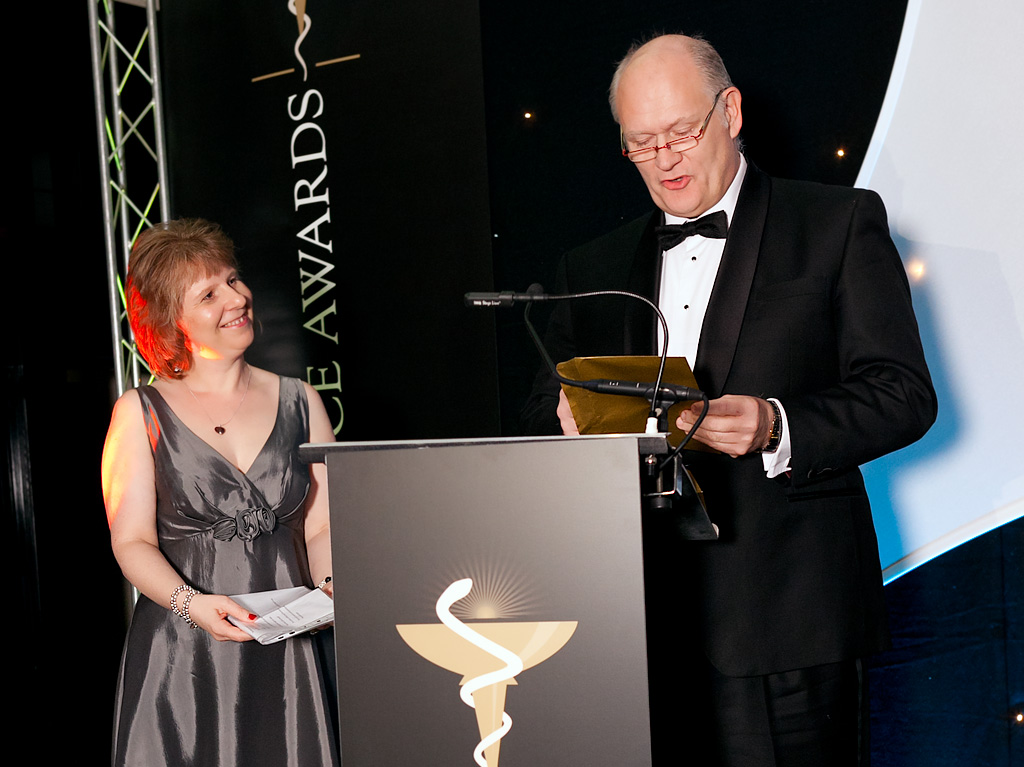 Jill Chiwara, Steve Charnock, Colm Magee, Teva

Chris Cooper & Chris Silverwood, Bayer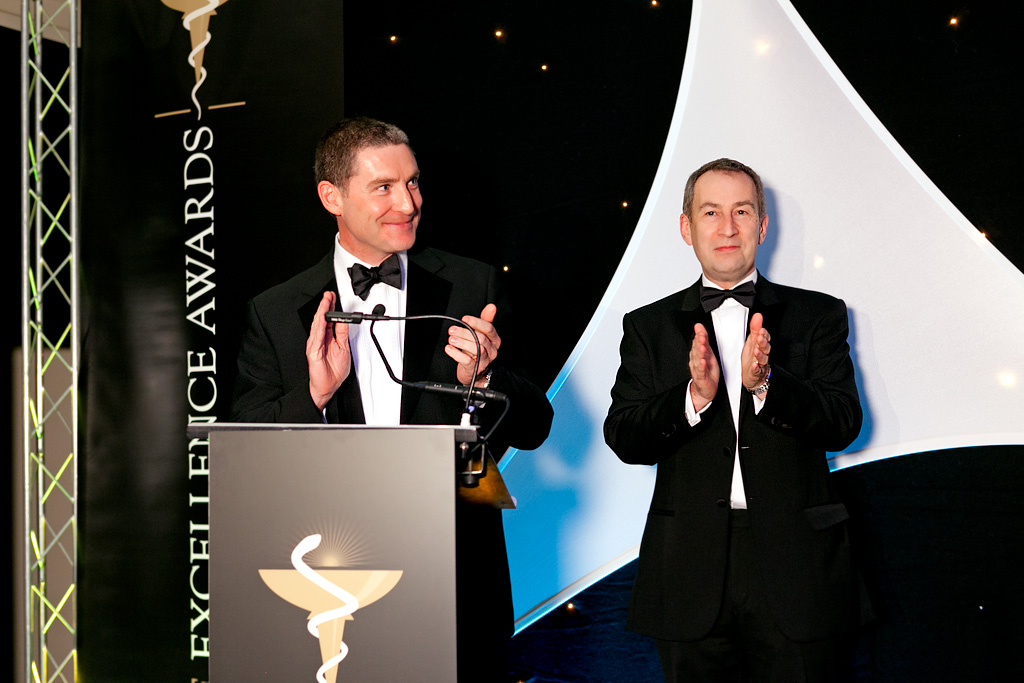 Ian Cowan & Geoff Foots, Guerilla

Champagne Reception the Radisson Hotel Manchester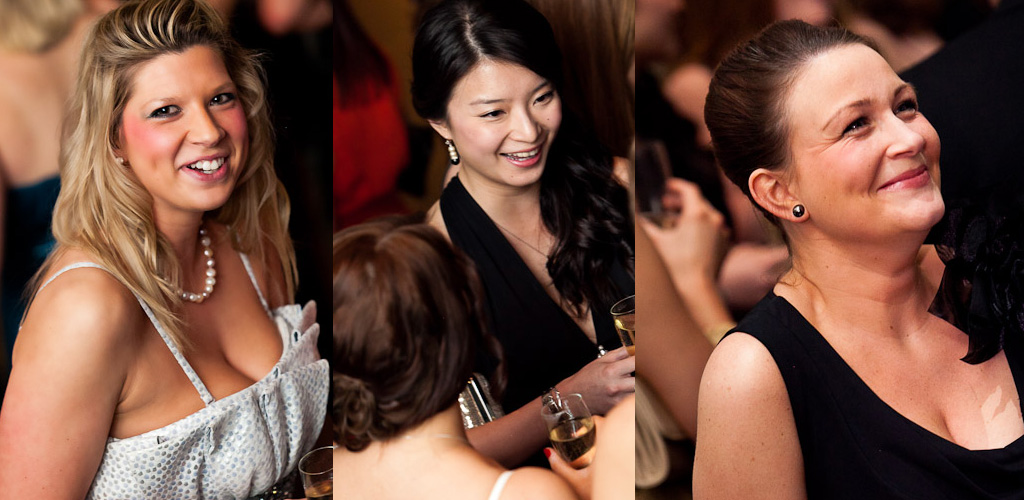 The Room and Decor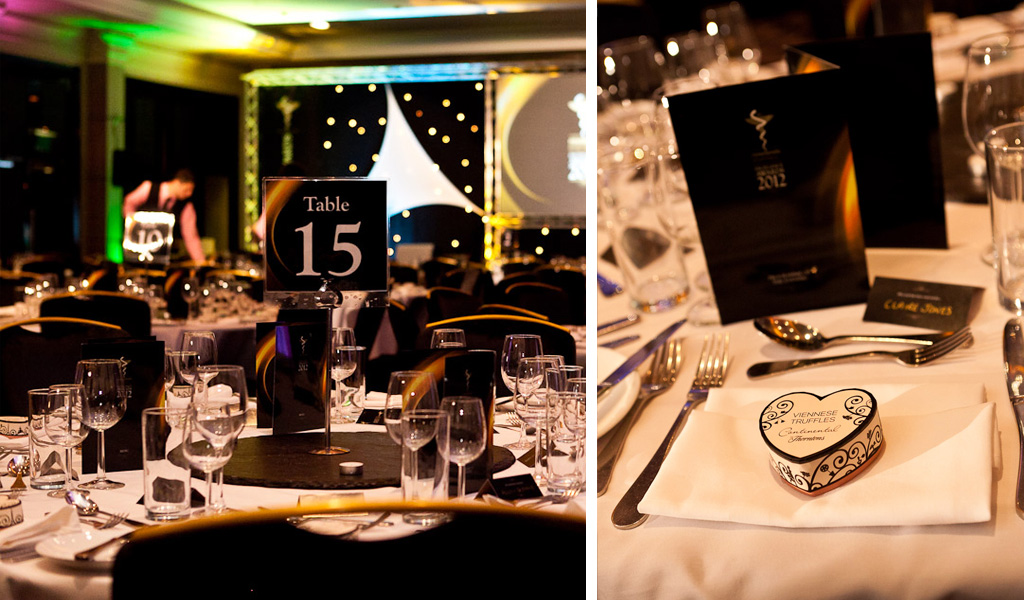 Click on any Thumbnail to view Slideshow
[portfolio_slideshow id=5480 size=custom navpos=top thumbnailsize=120 thumbnailmargin=20 fancygrid=true]
Important Message To Rowlands Staff
I am sure you will agree all of the winners deserve the recognition they received from the company during the awards ceremony but I am sure they would love to hear some positive feedback from their colleagues throughout the country so please leave a comment here for all to see…Thank you
https://www.neilsonreeves.co.uk/wp-content/uploads/2013/04/rowlands-exellence-awards-2013-57.jpg
768
960
admin
https://www.neilsonreeves.co.uk/wp-content/uploads/2013/04/neilsonreeves-photography-logo.png
admin
2012-03-23 11:55:15
2015-03-13 11:35:55
Rowlands Pharmacy Excellence Awards 2012