The Rowlands Pharmacy Excellence Awards, which recognises and rewards exceptional achievements, celebrated its first ceremony at The Radisson Edwardian Hotel, Manchester on 24 March 2011.
Over 130 members of staff from across the organisation joined in the celebrations at a prestigious awards ceremony to congratulate colleagues that had excelled in their roles.
The awards are open to all stores and individuals across the entire organisation, and nominations came from colleagues and customers who could vote in a number of categories.
The award categories were: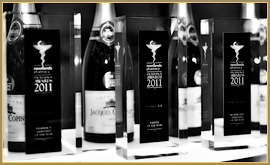 Pharmacy Assistant of the Year – Sponsored by Reckitts
Driver of the Year – Sponsored by Hill Dickinson
Technician/Dispenser of the Year – Sponsored by Winthrop
Head Office Department – Sponsored by Dr Reddys
Pharmacist of the Year
Pre Registration Pharmacist of the Year
Area Manager of the Year
Branch of the Year – Sponsored by Guerilla
Outstanding Achievement Award – Sponsored by McNeil
Below are the winners and some judges comments.
Pharmacy Assistant of the Year: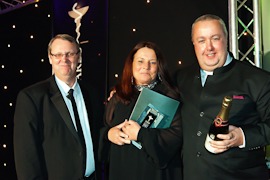 Karina Lamb Sowerby Bridge store, Halifax
One of the pleasures of visiting Sowerby Bridge is the greeting and smile you receive from Karina when you walk through the door.  Every customer that steps inside this Pharmacy is made to feel special and welcome and nothing is too much trouble.
Positivity flows out of this individual to every initiative or new direction we try to take the branch.  Celebrity slim has been a roaring success in Sowerby Bridge and in no small part is down to Karina, she tried CS and lost weight on the programme and this has been communicated to all her customers.
Driver of the Year: Jonathon Astle from Chesterfield Road store, Mansfield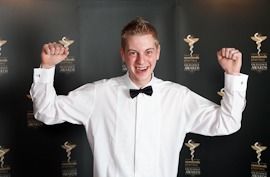 Jonathon stands out due to his attitude.  He is very popular and the patients he delivers to on a regular basis look forward to his visit as he takes time to talk to them. Jonathon receives regular requests from patients and staff at the local GP surgeries to deliver medicines urgently which means he often works past his contracted finish time whilst collecting scripts and waiting for them to be dispensed, but Jonathon does this with willingly as his priority is to his patients and wants to make sure they get their medication.
Technician of the Year: Phyllis O'Connor from Balmore Road store, Glasgow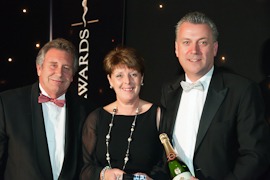 Phyllis demonstrates commitment and dedication to her role.  She makes it her priority to know her patients and their healthcare needs and to do everything in her power to meet these needs. She also supports and encourages others in the team in taking the same approach.
She goes beyond the job role and dedicates a lot of her time to help new pharmacists to develop their personal and professional skills to equip them for the ever evolving role of a community pharmacist in Scotland.
Head Office Department of the Year: Locum Board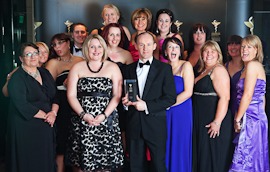 Locum Board are a team of 17 individuals who consistently communicate with every branch, area manager and head office department.  They deal with holiday requests, pharmacist sickness and any other reasons why a pharmacist isn't able to be in branch.  The team always try to please the branch to help them maintain their level of service whether that is proactively when it's planned absence or reactively when an unplanned absence. Last year they sourced Locum cover for 490,000 hours which is 61,250 days, or 167 years! This included: 85,000 holiday hours per year, 21,000 sick hours per year, 45 emergencies on 1st December 2010 due to snow – the biggest ever emergency day!

Pharmacist of the Year: Christine Shaw from Lepton store, Huddersfield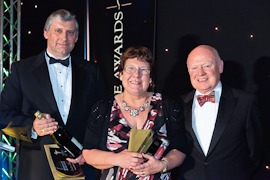 Christine is a highly experienced Pharmacist who has been with Rowlands Pharmacy for twenty years.  She is well liked within the community and nothing is ever too much trouble for her patients and her staff.
It is always a pleasure to go into the Lepton Branch as you always greeted with a smile and friendly help.  Christine is very keen on developing services within the community and enjoys spending time with patients carrying out medicine reviews.
Pre Registration Pharmacist of the Year: Danielle Watt from Ellon store, Aberdeenshire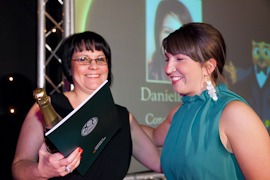 Danielle's attitude throughout the Pre-Reg year has been outstanding. She spent time planning what she wanted to get out of her Pre-Reg year and took every opportunity to develop herself and others whilst constantly reviewing her progress against her goals.
She has impressed her tutor, branch staff and the training team alike by the way that she has dealt with challenging situations and unusual circumstances.  Danielle has been proactive in seeking out opportunities to test and apply her clinical knowledge in difficult and unusual circumstances with patient care as her priority.
Area Manager of the Year: Debby Crockford, Area 4 (Hampshire/Portsmouth area)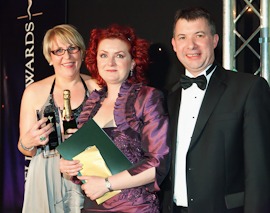 Reading the pharmacy press over the last year or so you couldn't fail to notice the publicity generated by Healthy Living Pharmacy. This was a project introduced in Portsmouth and right from the very beginning Debby threw herself into the challenge of making HLP a success for Rowlands in Portsmouth. To date under Debby's stewardship Rowlands has the most HLPs in Portsmouth with her pharmacies at Kingston Crescent, Fratton Rd, Highland Rd, Winter Rd and recently Eastney Rd all achieving Level One status which is a credit to all the staff involved and Debby herself. In fact there are two more pharmacies that have almost achieved this status and comparing  this to Lloyds and Boots, who have only three HLPs between them in Portsmouth, this is a fantastic achievement and we look forward to Rowlands having the first pharmacy to achieve Level 2 status.
Branch of the Year: Kingston Crescent, Portsmouth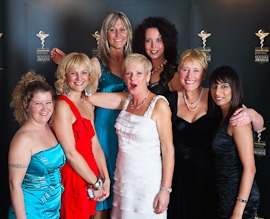 Last year the branch managed more than a 40% increase in their prescription volume following relocation into a local surgery. They have impressed the GPs so much with their health promotion that the surgery is writing to all their patients instructing them to visit the pharmacy for a BP check.
The Kingston Crescent team have been so proactive with the Healthy Living Pharmacy scheme that they were recognised by the PCT as Healthy Living Pharmacy of the year and their manager, Pam, as Healthy Living Pharmacy leader of the year.
Outstanding Achievement Award: Stephen Allen from Arnside and Milnthorpe store, Cumbria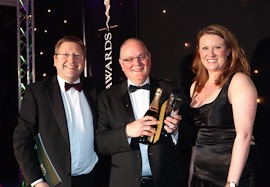 Stephen was on his delivery route when one of his housebound customers failed to open the door.  Immediately Stephen knew that something wasn't right and decided to investigate further.  When opening the letterbox he heard a noise and at this point called the Police and persuaded them to break into the house.
Once inside they found the lady on the floor, dehydrated and suffering from hyperthermia.  She had been there for at least a couple of days and Police told Stephen that he had saved this lady's life.  She was taken to hospital where she made a full recovery. This story shows what can be achieved when you go that extra mile for the sake of our customers.
Kenny Black, MD, Rowlands Pharmacy said:
We are extremely proud of our staff and the difference they have made to the organisation. We have created these awards to recognise and reward outstanding achievements and demonstrate how much we value our staff."
"I would like to congratulate everyone who was shortlisted, as well as winners, because it shows they are providing an excellent customer experience within our branches. There are staff that will go beyond the call of duty to help our patients and customers and we believe now, more than ever, the importance of rewarding and recognising excellence."
"We look forward to next year's awards and to recognising more of your achievements"
See all the Winners and Guests on Slideshow Below
Please use the Comments form at bottom of this Page to leave Supportive messages for your colleagues and press the facebook like buttom

[slidepress gallery='rowlands-excellence-awards-2011′]
https://www.neilsonreeves.co.uk/wp-content/uploads/2011/03/Rowlands-Excellence-Awards-138-Edit.jpg
563
800
admin
https://www.neilsonreeves.co.uk/wp-content/uploads/2013/04/neilsonreeves-photography-logo.png
admin
2011-03-29 06:27:45
2015-03-13 14:11:17
ROWLANDS PHARMACY HONOURS OUTSTANDING ACHIEVEMENT