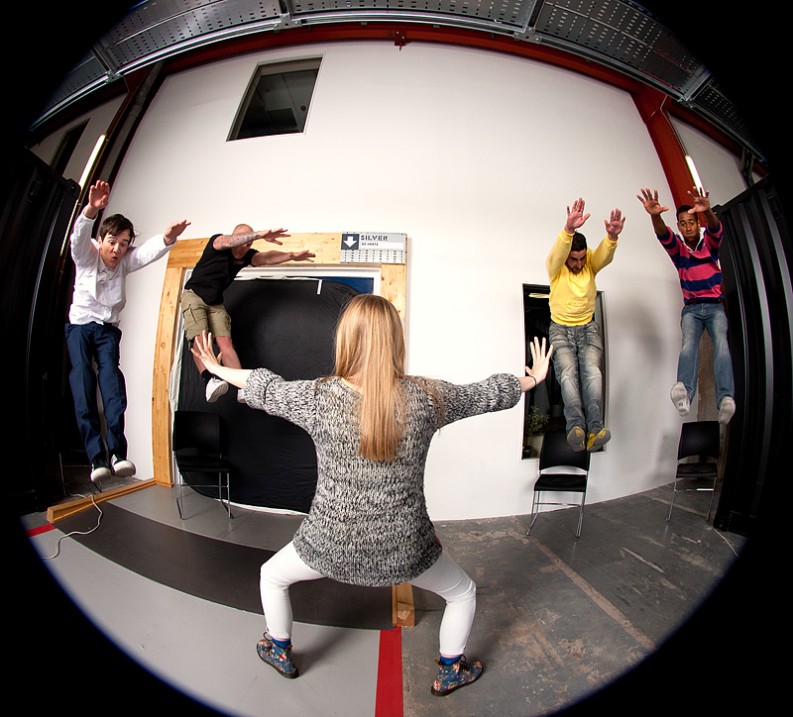 2013 was a year of viral photography and video trends such as The Harlem Shake, The Selfie and the Hadouken. People and organisations across the world joined in these trends and created their own versions from homes, offices and recreational spaces across the globe. At The Sharp Project we certainly made the most of all these trending social themes and in particular The Hadouken. After surfing the internet and seeing lots of 2 dimensional images created by people all over the world, even Arsenal Football club did one, we decided to go one better and create The World First 360 Degree Hadouken.
How we created the worlds first Panoramic 360 Hadouken
Armed with a 8mm Fisheye lens, a panoramic tripod head, 4 chairs and 20 willing volunteers we set about creating the worlds first 360 degree hadouken. The circular panoramic you see when you press the button below was created by take 4 shots each 90 degrees to each other with a 8mm Fisheye lens sometimes called a full circular fisheye. These images were then stitched together using panoramic stitching software that created a photosphere. This is then published to HTML 5 and uploaded to a web server and placed on its own domain. Google use similar technology to create their street view product.
George Samson and Chesney Hawkes
One of the best things about The Sharp Project is you never know who your going to bump into. I think most people would be intrigued if they walked past us in the process of shooting this because, 4 people trying to jump up in the air and lift their feet into a karate kick while being photographed is quite a spectacle. So it's hardly surprising we attracted the attention of Chesney Hawkes, who happened to be passing on his way to shooting a commercial. Chesney was even more impressed when we told him it was the world first One and Only hadouken he was well impressed and could he write the theme tune.
Another surprise guest was street dancer George Samson. Most people know George as the winner of Britain's Got Talent and will testify this guys is light on his feet so the ideal person to help. George kindly agreed to help testing but was unable to attend the main shoot due to performance commitments
https://www.neilsonreeves.co.uk/wp-content/uploads/2013/12/hadouken-3-Edit.jpg
724
800
admin
https://www.neilsonreeves.co.uk/wp-content/uploads/2013/04/neilsonreeves-photography-logo.png
admin
2013-12-20 11:53:37
2020-07-01 06:51:49
The World First 360 Degree Hadouken