Featuring Nick Brook-Sykes Director of Tourism for Manchester and Blackfriars Roof Garden
Terra Firma is most defiantly my favourite domain, as I do like to keep my feet firmly on the ground because this really helps to avoid camera shake and heights make my toes curl.
In certain circumstance exceptions can be made and  laces loosed to accommodate said curling toes and last weeks corporate Portrait Shoot with the Director Of Tourism for Manchester " Nick Brook-Sykes " was defiantly a time to make an exception, simply because the shoot combined two of my most favourite things, the Manchester Skyline, and Executive Portrait photography.
The Photography Brief was to produce a selection of dynamic  Environmental Coporate Portraits of Nick that would give the viewer a clue as to what Nick's role within the newly formed Manchester Growth Company, a merged group of companies who's sole purpose is to promote Manchester on the world stage and corporate headshot and portrait client of mine
After some creative brain storming with my client I set about trying to find a location where I could photograph Nick with a clear view of the Manchester Skyline,  without killing myself or Nick in the process. My first port of call was to try gain access to the old GMP head quarters Trafford house because I have used this tow curling location before whilst following a similar brief to photograph the Chief Constable of Greater Manchester. Whom I decided to scale such heights for to create corporate portraits that show the Chief as the Man keeping a watchful eye over the whole of Manchester to keep us all safe us safe in our beds.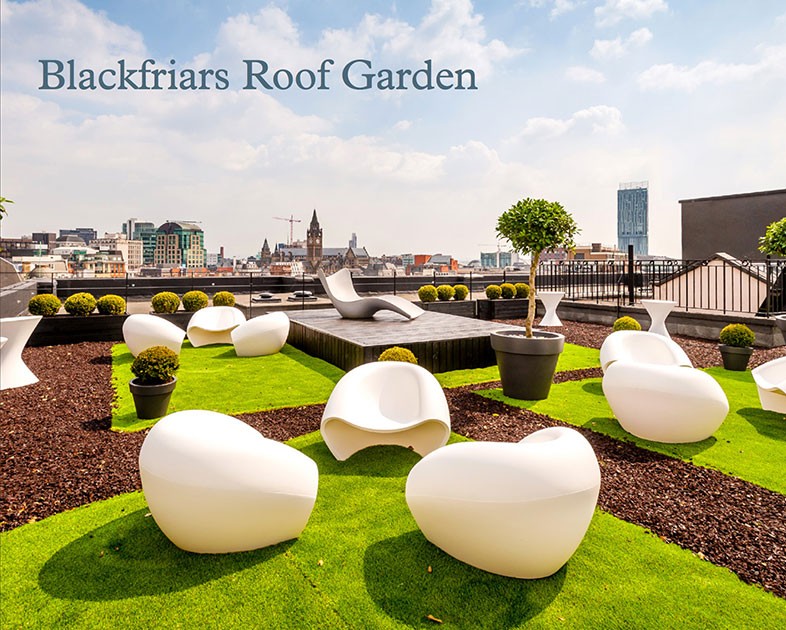 After a phone call to Bruntwood the Landlords of Trafford house I was advised about a fantastic roof top location that was available to hire by the hour that is normally used for corporate events, meetings or social occasions, ' Blackfriars Roof Garden ' as seen here. This is a fantastic location with breath taking panoramic views of Manchester and Salford that as you can see from the photograph is pretty cool.  On the day of the shoot, a late afternoon in February, pretty cool is an apt description of the weather, with the addition of pretty windy.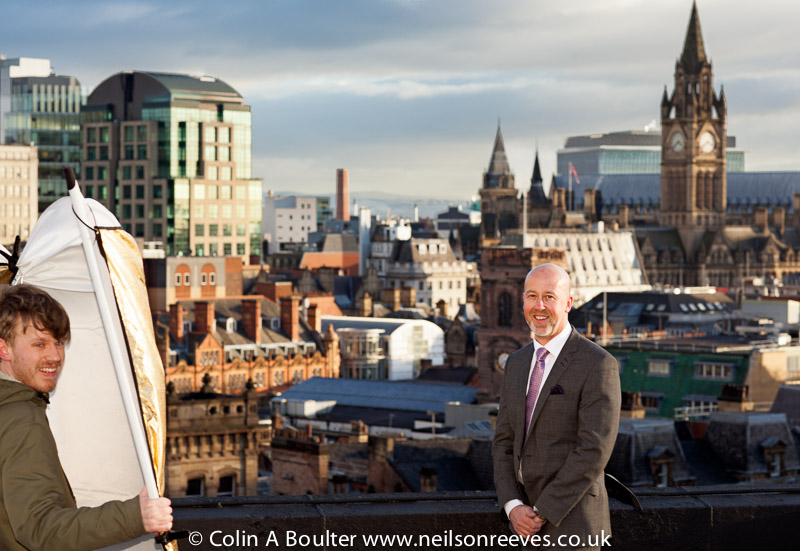 So with my trusty apprentice hired from SharpFutures apprentice talent pool of youngsters who want to work in the creative industry, who also hire out by the hour. We set out to create these images of Nick with the Manchester Skyline behind him and some panoramic images of the skyline alone. A great tip for anybody shooting executives on a roof is " keep them warm " don't use them to test shots and exposure, use your assistant as I used mine Tom Rothwell, photographed here, before I gave him a reflector that doubled as a roof top hand glider to hold. I am pleased to say the shoot went well and we all got home safely all be it with a mild bout of hypothermia and I hope you agree some great corporate images that will add value to Nick's personal branding portfolio that also features corporate headshot photography we did recently.
https://www.neilsonreeves.co.uk/wp-content/uploads/2015/02/manchester-skyline-panorama-1.jpg
378
1024
admin
https://www.neilsonreeves.co.uk/wp-content/uploads/2013/04/neilsonreeves-photography-logo.png
admin
2015-02-08 12:19:12
2015-03-13 10:20:58
Amazing Images of Manchester Skyline and Environmental Corporate Portraits