Emilie Cunliffe actor headshots
Take That musical Greatest Days Promo shot
What to do when you have just secured a part in the Take That Musical " Greatest Days " as a fresh-faced 16-year-old Take That fan, but you're a sophisticated and stunning 26-year-old and need a promotional headshot for the UK tour.
The answer is you take that beautiful face to the studio of one of the UK's best actor headshot photographers, remembering to bring along one of the best makeup artists in the business and have The Greatest Day shooting headshots.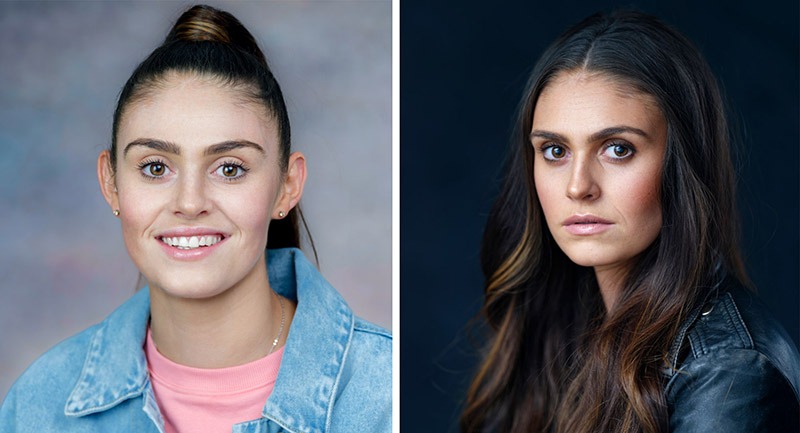 I had the Greatest Day working with talented actor and singer Emilie Cunliffe and celebrity makeup artist Sally Rowe shooting these headshots and the promotional picture showing Emilie as a 16-year-old Take That fan.
Emilie and her mum, former Coronation Street star Kym Marsh are to star together on stage in Manchester – playing the SAME character in hit Take That musical Greatest Days.
The musical heads out on a major UK tour in May, which will coincide with the summer 2023 release of the official movie version of the show, staring Aisling Bea and Jayde Adams. The tour will also celebrate the 30th anniversary of Take That's first UK number-one single, Pray.
Kym and Emilie will perform in the show from 6 May in Bromley, before it heads to Manchester Palace Theatre from May 16 – 27. Further casting is to be announced.
About this actor headshot photography package
Emilie chose our very popular ' Get Ahead ' actor headshot photography package.  Get Ahead is all about helping an actor get ahead in the industry. Getting ahead means getting more castings, resulting in more opportunities to get work. To help an actor get ahead, we will create a great go-to or flagship headshot. This is the first headshot on Spotlight and your agent's website. A great headshot will make a great first impression. A great headshot captures your personality, beauty, energy, and character, and your confidence radiates through it. It must represent who you are, your essence, spirit, quirks, flaws, and features. But a go-to headshot can only go so far in helping an actor get more castings. Sometimes a casting director cannot visualise an actor's suitability for a part from their go-to headshot alone. This is why we create another 3 contrasting headshots for the actor to expand type and stretch playing age.