Construction Photography
Lane End Developments
Neilson Reeves Photography teamed up Lane End Group, a leader in the construction and housing sector in the North West, just over 12 months ago when we formed part of the rebrand team.
Although the relationship with the Warrington based company started in August 2018, we've worked closely with Lane End's new marketing and communications team before on several high-profile projects and campaigns at a tier one construction business. Put simply, we were best placed to help deliver their objectives when Head of Marketing and Communications, Ian Cheveau, was drafted in to lead this project.
Working in partnership with Studio Twwo, graphic designers and website developers, we were involved at the website planning stage and the photography assignments, which started at same time as site design.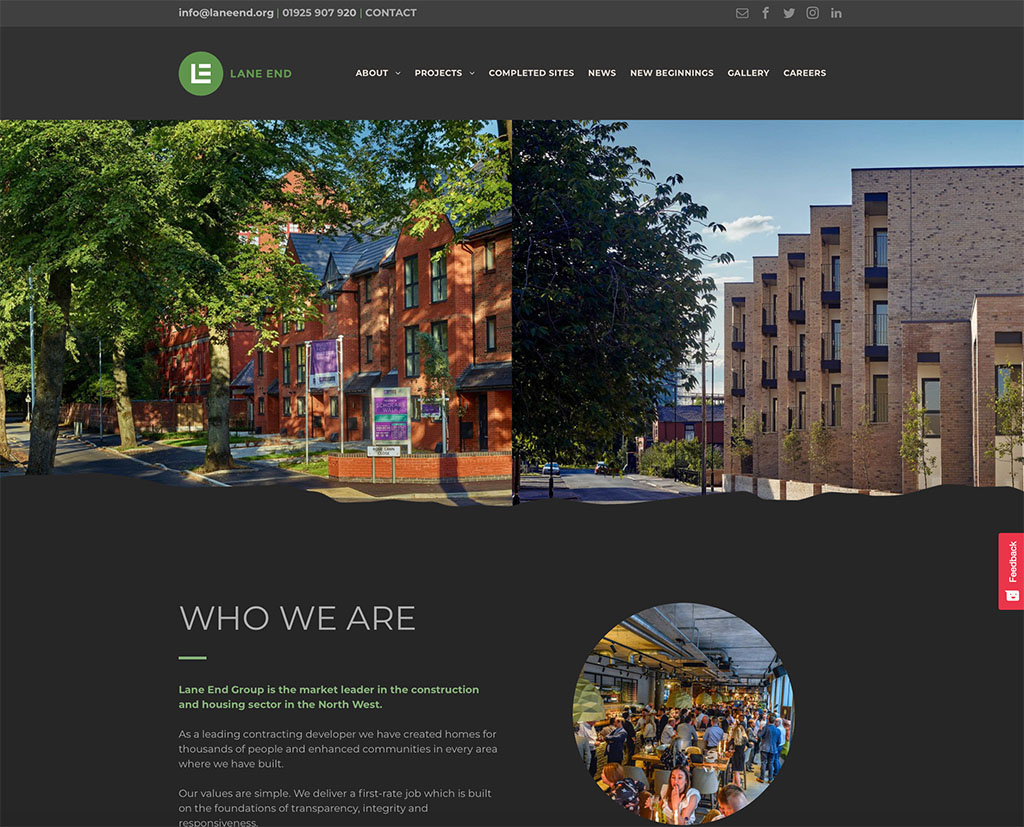 Bespoke photography should be comissioned once a new website design has been signed off and form a part of the design process.
This approach is the opposite of how most photographers are commissioned to shoot images for a new website. The usual photography commission comes when the site is a week or 2 away from being launched and after the web design company has had the project sat on their computer for 6 months.
Stock images featuring corporate models with designer smiles and beautiful offices bathed in Californian sunshine – cannot be recreated on a grey day in an office in Northern England – with ordinary hard working people who hate having their photograph taken!
The initial website design that was sold to their client was populated with stock photography featuring model people in model corporate environments. Stock photography can be replicated but requires planning, location scouting, styling, casting of the right people to appear in the photography (these can be your employees as long as they are happy to appear on your website, enthusiastic about helping out and are represent the diversity of your organisation is trying to achieve or maintain) good light and time. See examples of quality photography used in Lane End site design and corporate communications and forms part of Lane End's content marketing strategy.